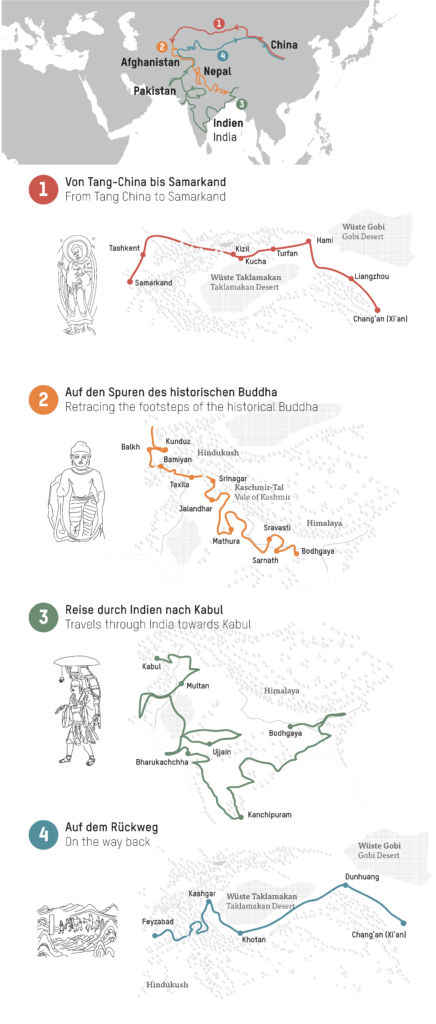 2018-2020
Tracing the travels of the 7th century monk Xuanzang, This map required some creative reimagining of the landscape due to restraints on the printed format. In this spirit, the map has several illustrated maps, as well as a representative object from the collection sketched alongside the map.
This work was part of my broader cartographic work with at the Humboldt Forum Berlin. The work involved creating over 100 maps of different sizes and themes for the permanent exhibition of the State Museums of Berlin (Staatliche Museen Berlin), particularly the Ethnologisches Museum and the Museum für Asiatische Kunst.
Diese Grafik zeichnet das Reisen des Mönchs Xuanzang aus dem 7. Jahrhundert nach. Sie erforderte aufgrund der Beschränkungen des Druckformats eine kreative Neugestaltung der Landschaftkarte von Himalaya-Region, China und Indien. In diesem Sinne enthält die Grafik mehrere illustrierte Karten mit jeweils einer Skizze von einem relevanten Objekt aus der Sammlung.
Diese Arbeit war Teil meiner umfassenderen kartografischen Arbeit für das Humboldt Forum Berlin. Die Arbeit umfasste die Erstellung von über 100 Karten unterschiedlicher Größe und Themen für die Dauerausstellung der Staatlichen Museen Berlin, insbesondere des Ethnologischen Museums und des Museums für Asiatische Kunst.